In early October we be launching Pro Plan accounts. Pro plan users enjoy various benefits, such as secure uploads (via HTTPS), an ad-free site with no 3rd party advertisements appearing anywhere. Furthermore, Pro plan users can work with PDF files up to 200Mb in size at a time. The price for this additional service will be a monthly fee of 4.99 USD.
Our goal is to enable small and medium companies to use our service to a larger extent as now all uploads and downloads go through a secure channel, increasing the overall security of the apps.
In addition, we will be encouraging all users to sign up for accounts. Registered free users will be able to use larger file sizes than anonymous users.
At the same time, we will be publishing our Terms of Use and Privacy Policy that will appear at the bottom of all our pages.
We emphasize that these changes will only minimally affect our free users. The basic service will still remain free. A login bar will appear on top of our pages, but the apps can still be used anonymously without logging in. We are reducing the file size down to 30 MB for basic services (anonymous), but that can be extended up to 50 MB for free by registering an account. This can then be extended up to 200 MB for the Pro plan which comes with other benefits as well.
The table below compares the Pro plan with the free registered and anonymous plans respectively.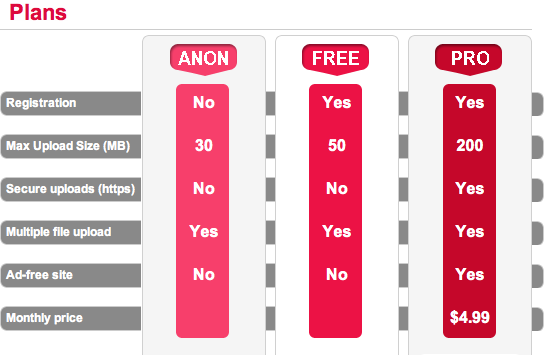 We hope that our users will benefit from the new services and we encourage you to leave us feedback in the comment section.
Update May 2015: We are now offering the benefits of the previous Pro Plan for free (and more) and no longer accounts as was announced here.